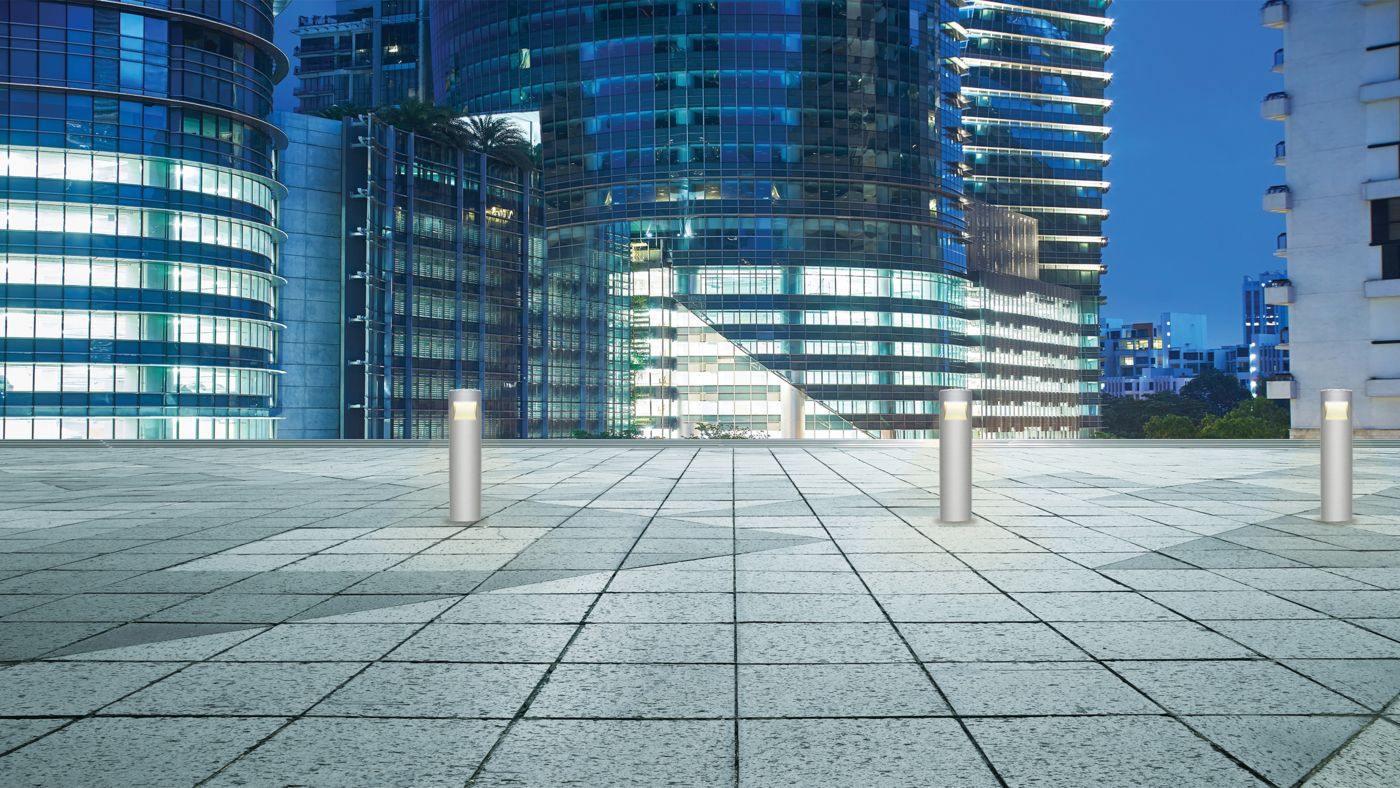 New Products: Elegant Recessed Wall Light and Robust Commercial Bollard
Commercial lighting designs require robust luminaires that offer effective illumination, simple integration, and maximum longevity in the face of rigorous environmental conditions. Two elegant new luminaires from Lumascape ensure top performance, easy installation, and unmatched style in any commercial setting.
Engineered with sharp lines and rounded curves, the Rise RS8 is the first of its kind. The RS8 is the only commercial bollard with variable throw distances, orientations, luminous flux, correlated color temperature, and control options. Specially designed for busy public spaces, the robust 42" (1,070 mm) luminaire complements classic and contemporary settings while offering up to 3,000 delivered lumens.
Blends seamlessly into projects of all scopes and glare-free for pedestrian comfort
Hardware stays out of sight to provide a clean, long-lasting installation that stays corrosion-free
Twist-and-lock base ensures the bollard does not rock after installation, while rotational adjustment prevents installation errors
Multiple orientations and throw options are available to meet the specific needs of any application
Installation requires no access to LED module, optics, or driver, while retaining the factory seal for added protection
Innovative galvanic isolator protects the finish during installation
Nook NK4 Recessed Wall Light
Strength, versatility, and unmatched style come together in the new Nook NK4 recessed wall light to produce a uniquely crafted luminaire that brings a layer of elegance to any commercial space. The NK4 extends only ⅛" (3 mm) past the surface of the wall, achieving the required output with an unobtrusive luminaire. The trim hides fasteners and other hardware needed to assemble or seal the fixture. Pair the NK4 with its companion fixture, the compact Nook NK2 recessed wall light.
Four flexible output and color temperature options
Adjustable, glare-free forward throw options: short, medium, and long
Tamper-resistant with minimal visible hardware (glass hidden from vandals)
Type II or Type III distributions with IP65 rating
Powder-coated aluminum (RAL colors available)
Fully reversible for down or up lighting applications.
 "The stylish, minimalist scoop design of the Rise RS8 bollard mimics the design of the Nook NK2 and NK4 recessed wall lights," said Ryan Williams, Director of Marketing. "Smooth transitions in the fixtures ensure a clean light pattern that minimizes hard lines and hot spots. Together, the luminaires provide a seamless transition to transform commercial settings with the power of light."
---
About Lumascape
Lumascape transforms spaces with precision-engineered lighting solutions, proven to perform. Since 1991, customers have relied on us as a leading manufacturer of high-quality, innovative luminaires that solve their toughest lighting challenges. Our global experts combine sophisticated design, advanced technologies, quality materials, and rigorous testing to manufacture a comprehensive range of lighting systems that consistently exceed performance expectations. Lumascape is a member of the Hunter Industries family of companies. Learn more at lumascape.com.
---
Media Contact
Caroline Jones
Marketing Manager
+61 409 219 969 Direct
caroline.jones@lumascape.com
18 Brandl Street, Eight Mile Plains, QLD 4113