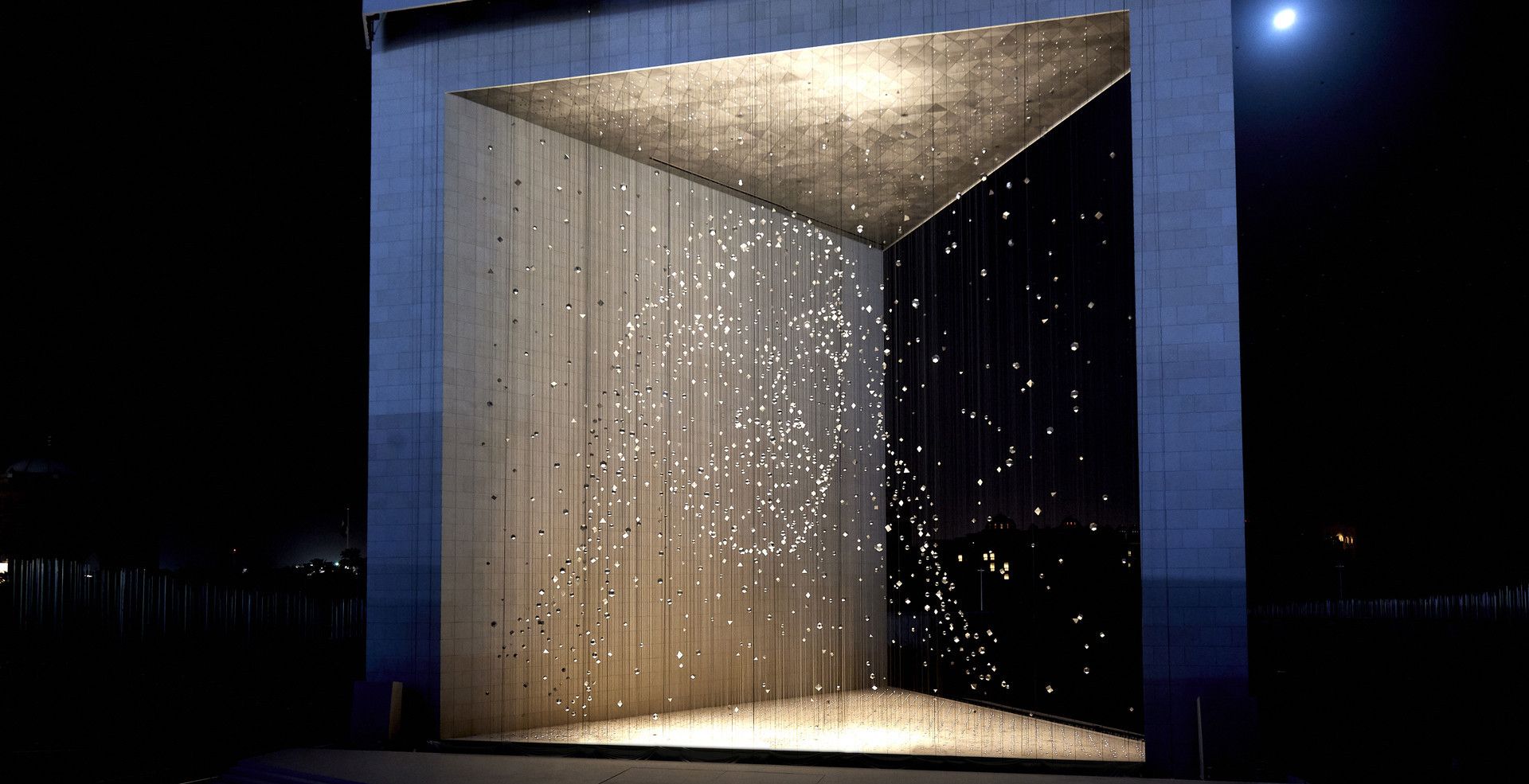 Evoking the Timelessness of Sheikh Zayed
The Founder's Memorial, located at the intersection of 1st and 2nd Street along Abu Dhabi's Corniche and spanning 3.3 hectares, serves as a permanent tribute to the UAE's Founding Father, Sheikh Zayed.
The centerpiece of the Founder's Memorial is a monumental public artwork called The Constellation, a dynamic three-dimensional portrait of the late Sheikh Zayed.  The Constellation can be experienced differently from multiple viewing points around the memorial and from other vantage points, offering a series of infinitely evolving personal encounters with his image.
Housed within a 30m tall pavillion, The Constellation, one of the largest art installations of its kind, contains more than 1,327 stainless steel objects suspended on more than 1,110 vertical steel wire cables.  The installation was designed by Ralph Helmick, renowned for his large scale suspended sculptures such as this one. 
For this project, Lumascape provided a total of 1,985 luminaires to illuminate the monument, mounted to the floor and ceiling.  The specific installation locations for luminaires were not evenly positioned, instead they were determined by the artist to achieve the desired vision and to accentuate the monument's features.
On the triangular floor, 1,203 uplight luminaires were mounted to the floor substrate, then buried up to the aperture with Sandstone Gravel.  These fittings are supplied pointing vertically but can be aimed to a 15° vertically in any direction.
The other 782 luminaires are downlights and were installed into the soffit from behind, pointing vertically down into the monument space.  The length of each luminaire was individually adjusted on site to flush finish with the ceiling.
All fittings were supplied with a colour temperature of 3000K, a 10° beam angle and controlled directly by a PowerSync backbone.  The DMX data from the show control hardware is provided to a bank of low voltage PowerSync masters mounted into two racks.  This allowed for the Show Control Company and Artist to work together to adjust the intensity levels and aim for the best result.
It has humbled Lumascape to play such an important role in the construction of this permanent national tribute commemorating the United Arab Emirate's beloved Sheikh Zayed. 
Distributor:  Lumascape Middle East
Lighting Designer: dpa Lighting Consultants FZ LLC
Watch the video below to watch the lighting in action.